Our Rides
Beach & Swim Rides
2 hour ride with 15 - 20 minutes in the water.
US$130 per person.
Available morning or afternoon.
This ride is not suitable for non-swimmers.
Swim ride is dependent on weather conditions.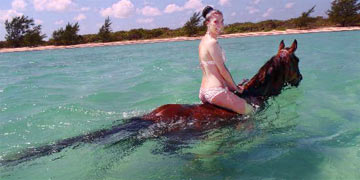 Beach Ride
1½ hour ride.
US$90 per person.
Available morning or sunset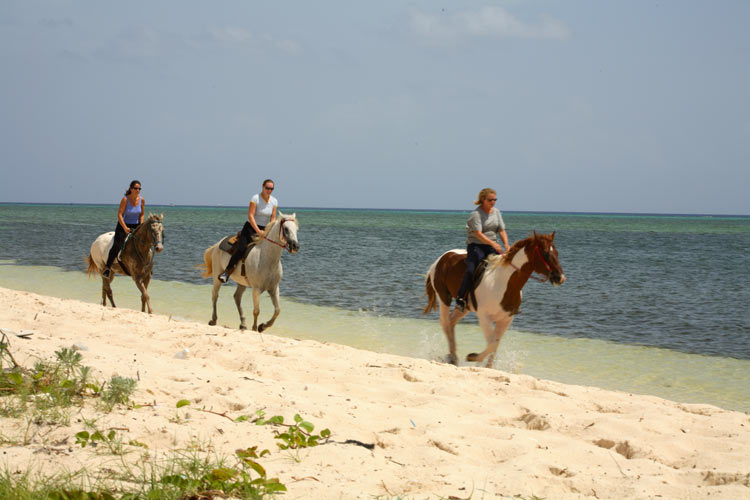 • Ask about off-season discounts and local rates.
After you are signed up and mounted up by Nicki, we head out on your most amazing adventure of your vacation!
Policies
• All rides privately guided by Nicki.
• Novice or experienced riders are welcome!
• Novice riders are given basic instruction on walking and trotting their horses.
• More experienced riders can enjoy long collected canters.
Included Free:
• Transportation to and from your condo or hotel on Seven Mile Beach,
or from Hard Rock Cafe (front entrance) for cruise passengers.
• Nicki is your personal guide and photographer.
• Saddle bags or waist packs to ride with your belongings.
• Helmets and 1/2 chaps (optional).
• English saddles upon request.
What to bring:
• Cameras (waterproof for swim rides!), hats, sunscreen, extra water.
What to wear:
• Long or knee-length pants.
• Sneakers or sandals with a strap on the heel.
Restrictions Apply
• Weight limit: 225lbs
• Age limit: 10-years-old and up. (All children under 12 must be accompanied by an adult and must wear helmets.)
• Riders under 18-years-old must have an adult sign the release waiver.
• Must speak English, or have an English-speaking interpreter.
• Rides are not available for individuals with physical disabilities, back problems or pregnancies.